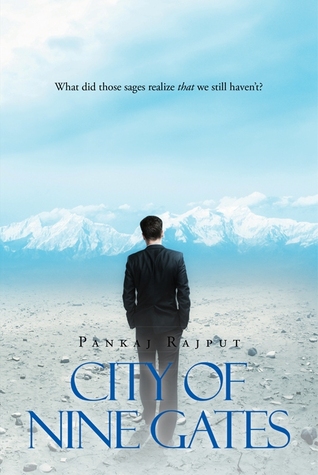 Author: Pankaj Rajput
Pages: 300
Publisher: Notion Press

Cover : 3/5
Title : 3.5/5
Blurb : 2.5/5
Story : 3.5/5
Theme : 4.5/5
Characters : 4/5
Overall : 4/5
Characters-
Gyan- The protagonist
An atheistic millionaire is forced to find and help his long lost friend achieve self-realization in a mystical City of Nine Gates known only to the Gods and the wisest sages of the Advait and the Sankhya. Assisted by other friends in the City, he leads the City on an inward enlightening journey, only to realize at the end who his friend is, what actually the City of Nine Gates is and who is that beyond all regions knowing which one never comes back …
When the Gods descend to devastate,
When Kalyuga meets Apocalypse,
Out of a Billion,
Only one strives,
Of those who strive,
Only one achieves,
What those sages realized,
and you still haven't,
knowing which,
one never comes back.
Rise O' Cities!
It's time to liberate,
It's time, to realize…
"City of Nine Gates" by Pankaj Rajput is a brilliant concept. It is about Gyan who is at the peak of glory in his profession as an archaeologist. With the help of his friend, who also works with him in the archaeology field, he discovers a new fort underneath an already existing village. But Gyan sees more than others, he discovers something which no one else noticed. In those images of the fort, he notices unique features which lead him to a finding, leaving him stunned. There appears to be a way into a temple from one of the pillars in the fort. Only a combination of the five elements – air, water, fire, space and earth – can open the pillar, leading one into the gateway to the temple. But the temple isn't an ordinary one, there are 12 sages protecting it, meditating outside the temple gate. They are afloat in the air when Gyan sees them for the first time and their meditation gets interrupted by the presence of someone who is not from amongst them. These mysterious sages increase Gyan's curiosity to learn more about the temple and also the sages. Only then does he realize that he has been born with a purpose, the purpose of saving some lost souls and liberating the temple from a curse. Thus the journey of Gyan begins, in which he also comes across some truths which are still unknown to mankind, especially the concept of God!
The story on the whole was a novel idea, something different than whatever I have read so far. Good research had been done about mythological facts and they have been utilized beautifully. The element of surprise and awe at each moment was what kept me glued to the book till the end.
Too many characters, although supporting ones, made it confusing at some point to understand what exactly was happening and also made the script a bit complex.
Amazing, unique and a brilliant book. (4/5)
Contact Madhuri for getting your book reviewed: writermadhuri@gmail.com
Follow her reviews on-
Facebook: http://www.facebook.com/madhurivarmatheauthor
Twitter handle: https://twitter.com/madhu_rv

P.S. Please RATE the post. Hover on the stars and mark it. And LIKE the post if you like the review.