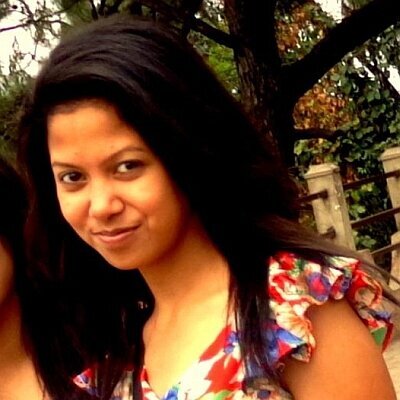 Adwitiya Borah, author of The Wrong Vantage Point
was born amidst the greenary of Assam. She has studied Computer Science Engineering from NIT Silchar. Besides writing, she is a martial artist with a black belt in Karate. She believes that she was born to write and hopes to make it big in the literary world, someday. The Wrong Vantage Point
is her first full length novel. Let's get to know her more-
The story revolves around the life of a Bengali boy Dhrubo. He has the perfect scores, the perfect college and the cutest love story. But things take a different turn when he ends up amidst the most notorious criminals in Mumbai. He stands at such a vantage point of his life, from where the only thing that seems to be of value in this world is money! Being there, he comes across different people and their not-so-conventional lifestyles and that's when he realizes that not everyone's life is about good grades and happy families. Some people have scars and every scar tells a story- of pain, of struggle and of victory. The Wrong Vantage Point is one such story.
Read my review of Adwitiya's book "The Wrong Vantage Point"


When did you start writing?
Honestly speaking, I have been writing ever since I learned the alphabets. As a child I used to write my own nursery rhymes. And also choreograph the actions for it!
What is the purpose of your writing?
Over the years, as my writings have evolved and matured, I have been approached by people- young and old- who have told me how my writings have helped them, inspired them and how they constantly find themselves and their stories in my words. "How do you do that?" they ask. And that is what I write for. The little words of appreciation from time to time, the feeling of having made someone smile or of having made them feel that they are not alone and that there is somebody who understands… It's beautiful. It's the most beautiful thing ever.
What inspired you to bring forth this idea as a book?
I have always been the person who tries to find some good in the bad, the person who would challenge the conventional societal rules. In my book The Wrong Vantage Point, through the stories of the various characters and particularly through Dhrubo, I try to show that the reality is not always what it looks to be. Nobody is born a criminal. There must have been something in his/her life that drove them into this track. So instead of trying to get rid of criminals from our society, we should try and get rid of those driving factors.
Is the plot of this book fictional or inspired from real life?
The story is fictional, although there are bits and pieces of it that have been inspired from real life.
Which of your works have been published so far?
I have been a part of two anthologies before. Besides that I mostly just publish my writings on my blog named The Girl with Wings.
What is your idea of love, family and relationships on the whole?
Well, I happen to be an extremely emotional and romantic person. Emotions are beautiful aren't they? They drive us, they drive this world. At the end of the day, if you cannot feel empathy and love for the people around you, I think you've lost yourself, and no amount of money is going to bring you back. I had learned at a very early age that it is more important to have a few best friends and enough family-time than have tons of money in the bank.
So how was this journey of becoming a published author? Give some insights of your efforts on getting your work published.
Phew! It had taken me a year to write the first draft of The Wrong Vantage Point. It took me two and a half years to publish! That should tell you a lot about the efforts put in. But the entire experience has been thoroughly worth the time. It has made me stronger, more patient and most importantly has taught me to find comfort in solitude. Writing is mostly a lonely business. But I have been lucky to have friends who stood by me and encouraged me throughout.
Have you self-published your work or followed the traditional approach?
The traditional approach.
Which approach is better according to you and why?
Both have their own pros and cons. Self publishing is like owning a start-up. A hell lot of headache but then you get to be your own boss. It's also more risky though. Traditional publishing, on the other hand, is like working under a boss. There's very little decision making power in your hands and at the end of the day you get a small share of the large profit accumulated. But you make no losses.
What is your take on book publishing as you see the current scenario?
I have seen that there are a lot of new publishers coming up which has made the task of publishing a book fairly easy. So in this scenario, publishing a book is not an achievement, it's more of an assessment.
What are your forthcoming writings?
I've another book with LiFi Publications in the pipeline. Meanwhile I'm also working on a third. Here's something that I had written today: "At that instant, she placed her hand over mine, sending a wave of warmth through my failing body. Wrinkles caressed wrinkles. The innocence of one met the guilt in the other, and each forgave the other for their helplessness."
What are the four top most things you take care of while writing a book?
Make sure you know your story end-to-end before you start writing.
Do your research.
The main character is your best friend.
Believe in coffee. And chocolates.
What is your favorite genre and why?
I have recently developed a fondness for the classics. Today I'm reading "The Great Gatsby" by F. Scott Fitzgerald.
What is your biggest source of inspiration in life?
Nick Vujicic. Often I'm down or feel that I cannot go on anymore, I turn to his YouTube videos for inspiration.
I happened to see his videos too and no wonder his energy can felt even virtually. I see that you are a very positive person, so my next question is, what is the biggest challenge you have ever faced and how did you overcome it?
Self doubt. I think it is every artist's fear that their creation is not good enough. I keep wondering if my writings are, perhaps, utterly unimaginative. Or plain boring. Write-Delete-Rewrite is the strategy here! Even Vincent Van Gogh had described his painting 'The Starry Night' as "a failure for being an abstraction". It is now one of the greatest paintings the world has ever seen. So, I guess I'll do just fine.
If you had to live a day of your life as one of the living or dead personality, who would it be and why?
My mother. I really want to understand how she does what she does, you know. She's a scientist, a writer, a leader, a mother, a wife and she makes the best fish curry on earth. Too much for one person?
All mothers are some unique wonders of the world. Finally, any message for our readers?
I just want to say thank you for being as amazing as you are. Thank you for reading my stories, for encouraging me to write and for letting me know, from time to time, how I've touched your heart. Always remember, you're a gorgeous piece of poetry somewhere somebody is writing about. So you're special.
—————————————————————————–
Read my review of Adwitiya's book "The Wrong Vantage Point"
You can get in touch with Adwitiya directly at:
https://www.facebook.com/adwitiya.borah
Contact Madhuri for your author interview and getting your book reviewed: writermadhuri@gmail.com
Follow her reviews on-
Facebook: http://www.facebook.com/madhurivarmatheauthor
Twitter handle: https://twitter.com/madhu_rv
P.S. Please RATE the post. Hover on the stars and mark it. And LIKE the post if you like the interview.