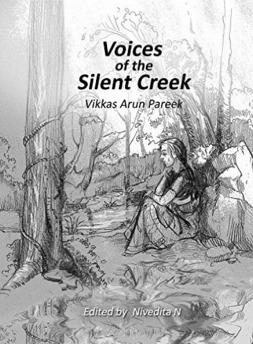 Author: Vikkas Arun Pareek
Pages: 210
Publisher: Nivasini Publishers

Cover : 3.5/5
Title : 4.5/5
Blurb : 3.5/5
Story : 4/5
Theme : 4.5/5
Characters : 4.5/5
Overall : 4.5/5
Shanti- The protagonist
Bheem Singh- Sarpanch of Badoria
Parshuram- Sarpanch's eldest son
Mano- Parshuram's wife
Krishna- Sarpanch's youngest son
Bhano- Shanti's younger sister and Krishna's wife
Arti- The saviour
Amol- Arti's husband
Shanti is married in a prominent family but her life will never be the same for a life thrusted on her for honour of the family. She accepts her life but will she let the same fate unfold for her younger sister?
Bhano discovers the horrors of her sister's life. Will she be able bring justice to her sister's life and her sacrifices?
Arti finds herself strangled with choices. Will she risk her life and her family's life to help Bhano get justice or leave her helpless?
The story of set in rural India takes us through unimaginable yet common atrocities which a woman faces in today's society. Will they fail to survive? Will they emerge stronger battling the troubles?
Voices Of The Silent Creek  by Vikkas Arun Pareek is the story of three women – Shanti, Bhano and Arti. Shanti is Bhano's elder sister and they stay with their family in a small village named Badoria in Rajasthan. Shanti is married to the village Sarpanch's 2nd of the three sons, Mohanlal, only to realize that he is in love with another woman of a nearby village and stays with her 99% of the times. Bheem Singh, although being the Sarpanch of Badoria, has zero respect for women and zero tolerance for rejection and insult. Mano had given birth to three daughters who were murdered by Bheem Singh upon their birth leading to instability in Mano's mental health. She would have sudden mood swings, she would even hit the people in front of her with whatever she would get her hands on, when in rage. With time, Shanti learnt to handle her according to her mood swings and developed a close bond with her.
Bheem Singh wanted to further the family chain by giving a child to Shanti, given the fact that Mohanlal wouldn't do it himself. Rejecting his request, she runs away to her father's house only to be brought back by Bheem Singh and Parshuram. Shanti's father is summoned by Bheem Singh and given a brief of the family's requirements, keeping him under the pretext that it would be Parshuram who would further his family chain with Shanti. Shanti is later ordered by her father to give the family what they have asked for. Shattered by the fact that she would no longer be able to lead a normal happy married life, she surrenders herself to Bheem Singh. In due course of time, even Parshuram gets his hands on her leaving her mentally disturbed with the thought of being a prostitute in the closed confines of the Sarpanch house.
Arti gets married to Amol and they are settled in Delhi. Her father-in-law once visits Badoria for a business prospect with Bheem Singh. Arti and Amol accompany him. Upon reaching there, Arti realizes that the women of the house are in some serious trouble and later makes subsequent visits to learn everything about Shanti and Mano. She even meets Bhano through Krishna. Bhano and Krishna loved each other since childhood. Krishna, unlike his father and elder brothers, respected women and always took care his sister in-laws Mano and Shanti. He would even protect them from the wrath of Bheem Singh at times. Shanti was happy for Bhano that she had someone like Krishna to love her, but she didn't want her younger sister to face the same atrocities as her after she becomes a part of the same family. Failing in her attempt, she welcomes Bhano in the family as her sister-in-law. The events post Krishna and Bhano's marriage and their toll on Arti and Amol's life depressed me to the core. We are aware that such events do prevail in the rural villages even now, but while reading such stories when you realize that someone is actually facing these things, it makes you feel miserable. Salute to the brave women who stay strong throughout and raise their voices against such atrocities.
Picking up a sensitive issue and doing justice to it is not everyone's cup of tea. Domestic violence and lack of women empowerment in rural areas have always been a grave concern and Vikkas managed to portray the feelings of these women perfectly through the three main characters of this book. Almost-perfect grammar, amazing story-line, and connecting the dots at the correct time are some of the highlights of this novel. Comparing the sadness in Shanti's life with the calmness of the creek in their village was very thoughtful of Vikkas.
Just few grammatical errors here and there, maybe ignored by many, which could have been avoided; and hence my comment "almost-perfect" in the achievements.
Very bold and sincere attempt to make the voices of the silent creek heard. Strongly recommended! (4.5/5)
P.S. Please RATE the post. Hover on the stars and mark it. Feedback is important. 🙂
Contact Madhuri for getting your book reviewed: writermadhuri@gmail.com
Follow her reviews on-
Facebook: http://www.facebook.com/madhurivarmatheauthor
Twitter handle: https://twitter.com/madhu_rv