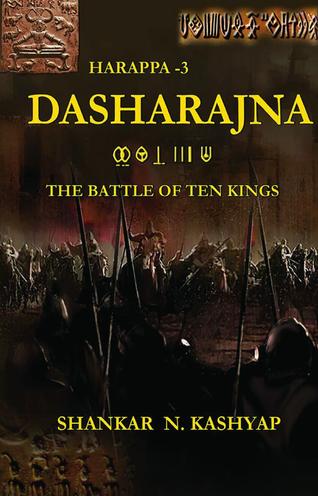 Author: Shankar Kashyap
Pages: 313
Publisher: Indus Publishing Group

Cover : 4.5/5
Title : 4.5/5
Blurb : 3/5
Theme : 4/5
Story : 4/5
Characters : 4/5
Value for money : 4/5
Overall : 4/5
This is the story based on the main event within the seventh book of Rigveda. It is the story of an epic battle between Sudas of Bharatas and Cayamana of Anus leading confederacy of ten disgruntled kings. It takes place on the banks of River Ravi, it is also battle between the two of the most powerful sages of Rigveda-Vashista and Vishwamitra.Extensive research into the vedic scriptures and archaeological records have helped to create a fascinating insight into the geography of the battle. It is the battle whose result is paradigm shifting in that the outcome decided the future of the great epics of India-Ramayana and Mahabharatha.
History is one of the boring subjects for all students. But when we have a writer like Shankar Kashyap, even the sleep infusing history turns to something so interesting! Shankar has been researching about the Harappa civilization for quite some time now. He published his first book of the Harappa series, The Lure of Soma, in 2013 which showcased life in the cities of Harappa, Mohenjodaro, Lothal and Dholavira. The highlight of it was the war between the Vedic Aryans and the Avestans from Afghanistan. The second book, The Fall of Shuruppak, published in 2014, revolves around the cultural links of Harappa with Sumerians.
Dasharajna is the third book in the Harappa series, released in 2015. The reality has been beautifully molded to a totally different story. There are very few books which manage to keep the reader engaged throughout, especially if it a huge script of over 300 pages. Dasharajna is one of them. The plot, as the series suggests, is based on the Harappan civilization. The amalgamation an ancient plot with totally different characters placed from Rig Veda was a very novel idea! But having a strong plot and characters is not all that is required for a great book. It is what the author does with them to bring out an authentic story is of utmost importance. The story of Dashrajna too is based on tales from Rig Veda. It made the narration of the battle between King Sudas of Puru and a crew of ten kings conspiring against him, very interesting to read. However, it did seemed a bit dragged at certain points.
It takes a lot of will power, passion and enthusiasm to write about something ancient because not much has been written about our history. Not many authors pick up this genre for fear of it not selling and / or connecting with the audience. So every time I come across a book written on classic tales from ancient times, it only rejuvenates my mind and makes me feel proud to be a part of a nation which has such a rich culture. I can only say that Shankar has done full justice to the story and the book on the whole.
Beautifully crafted unique narration. (4/5)
P.S. Please RATE the post. Hover on the stars and mark it. Feedback is important. 🙂
Contact Madhuri for your author interview and getting your book reviewed / edited: writermadhuri@gmail.com
Follow her reviews on-
Facebook: http://www.facebook.com/madhurivarmatheauthor
Twitter handle: https://twitter.com/madhu_rv